Psychic Relationship Readings
A psychic specializing in relationship readings
can offer helpful advice to a client.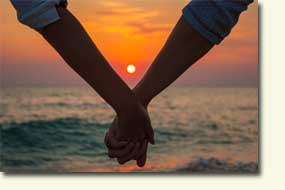 Relationships have a tendency to cause emotional stress.

Even the most compatible couples go through trying situations that require hard work and perseverance for the relationship to withstand the test of time.

During a relationship psychic reading, information pertaining to the thoughts and feelings of the couple involved can surface.

This helpful insight may be the key required to open both partners to rekindling their love for each other.
A psychic that specializes in relationship psychic readings
encompasses the empath  sensitivity required to communicate yours and your lover's personal thoughts and feelings with ease. This will lead to the reception of helpful advice that can come through during your psychic reading.

Whether a caller is already involved with someone that seems to be going nowhere or if they're content with their lover, a psychic can shed light into the situation. Perhaps the communication between partners has broken down. During a psychic reading, it is possible for helpful information to come through which can open the door for the healing process to begin.

Perhaps you have not yet found the right person to share your life with. It is possible for
information to come through for you that can deem helpful to lead you to that special someone. You may actually be blocking your own opportunity for finding the right partner by your own emotional fears and issues. When these blocks are pointed out to you, the possibilities are endless as to where you can go and how you can open yourself up to finding the perfect partner.

A relationship oriented  psychic reading can be extremely helpful if you are searching for happiness in love!

Christine Lynn+