Psychic Gift Certificates

If you're looking for a unique gift to give someone special, Gift Certificates are a great idea.
One of these would provide a memorable experience for that hard to shop for person!



Insight from an accurate reader can be interesting and helpful to someone who's never had this experience.

It could be a fun way to surprise someone you love!!

If you're already a client, you know what a positive experience this can be - The bright side always shines in.... because it's always about love one way or another.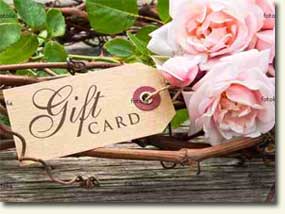 Birthdays
Anniversaries
New Year's
Christmas
Bachelor/Bachelorette Parties
Graduation
Help a Friend
Maybe you know someone in a tough situation. You can show you care by helping them take a look from an intuitive perspective. Maybe they just need some really unique entertainment that can make them feel special when they need a happy lift.
Gift Certificates are available for a variety of services
To purchase a gift, just click on the button of your choice
5 Question Email Reading $40.00
30 minute Telephone Session $45.00
60 minute Telephone Session $90.00
Guided Chakra Energy Alignment $75.00
Psychic Development Session $100.00
As soon as your payment is processed, we'll both receive notification. Within 48 hours, you'll be emailed a copy of the certificate of your choice, in printable PDF format, perfect for a lovely gift presentation.

Gift Certificates have an accompanying number. When your certificate owner is ready, they contact me with their certificate number. Then we can schedule the event.. ♥