Email Psychic Reading - How Does it Work?
An email psychic reading is a convenient alternative to telephone sessions. Clients forward questions and answers are returned – all via the internet.
<< Click Here to Schedule a Reading Now >>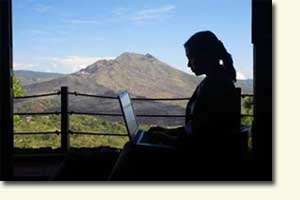 It's a simple way to ask questions and get intuitive answers without having to physically visit or telephone a psychic.

For anyone preferring privacy when expressing their most private questions and feelings, this makes a reading accessible to you – right in the comfort of your laptop/desktop or smart phone. You can ask your questions without having to actually "talk about it."
<<Read Some Client Reviews>>


How does an email psychic reading work?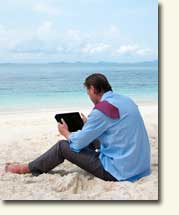 As an intuitive psychic, I can connect with you by using any means of communication.

Whether or not we're sitting together, speaking through a telephone, using video/audio readings, if I'm holding an item you own, studying a photo or sending an email…
You could be on a remote island somewhere in a little grass hut while I'm chilling atop Mt. Everest. Our physical separation means nothing more than that - physical separation.
The scientific study of quantum physics proves we ARE connected on a molecular level.


Focusing intentions together is the key. If you send the mail 3 days before or a week before I get to it, at the time of the intuitive focus, I can still deliver the information. It's fascinating. <<get a reading>>
Natural intuition only requires a focused connection

Whatever your personal situation is, it's yours and you're going through it. You're obviously thinking , feeling and living "it" out – both physically and emotionally. The other people involved are in there too. All of those actions in your life are churning up barrels of energy! That life force energy is connected to you regardless if you speak, write, type, think, etc.
As a professional intuitive, I can read what comes up, around and for you in a heartbeat if you set intentions for me to do so.
You've already focused on your questions.  Once your email is opened, I focus the same as if we're actually talking on the spot, face to face, etc.
The information/questions you send regarding your situation is focused on with the conscious mind. Your energy and thoughts are all over that email! My subconscious is able to view whatever information is available at that time. This information is then transferred and delivered via email.
What are the benefits of a email psychic reading?

Writing out your questions /situation is a form of journaling. Journaling is a proven form of helping you with problem solving.
A email psychic reading gives you the opportunity to type, re-read and really take your time to get a visual on what your situation entails by viewing over what questions you've "written." <<get a reading>>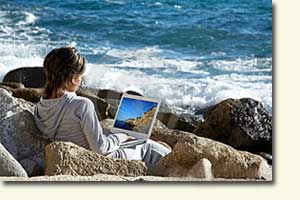 This process of compiling thoughts for your own review can be a useful practice in problem solving – you're thinking about the questions, really looking at
which ones are important to you, and then rethinking the value of what's really going on with you.

It's sort of like "out of the box" self therapy before you even get the actual reading.
Email Psychic Readings give you something to review at any time without missing what information came in for you.
It's recommended clients take notes once a "reading" begins. I won't remember a thing at that point the subconscious mind actually "does" the reading. Advice in discerning the information is given upon request. And air hugs are never forgotten…. but the actual information that comes in for you may be a bit overwhelming. It'll be lost if you don't either remember all details or you write everything down during your reading.
In an email psychic reading, you don't have to take notes. They show up in your mailbox

Email Psychic Readings are simple and convenient
You can type your questions and read the responses at the time most convenient for you.
Some of us are busy and don't have time for a telephone reading session. Simply forwarding your questions in an email takes less time. Reading at your leisure is the way to go for people with busy schedules. <<get a reading>>
Time zone differences make no difference
Time zones no longer create scheduling issues. Clients send questions at any time… they receive answers within a specific time and everyone is happy! Worldwide access with the very same connection is a reality with an email reading.



How do I order an email psychic reading?
Please be as specific as possible when you send questions. Take your time, relax and
get your thoughts together on what you really want to focus on.
Double check before forwarding the email.  Compact all questions in one correspondence. (back and forth questions/ answers lose accuracy as the connection is weakened) .
Remember, this is not a fortune telling experience <<more>> 
Include a photo of yourself and/or others involved in your situation if you'd like. It's not
necessary but I do enjoy looking at your beautiful faces… xo

It's important that you relax and really think about what is going on in your life as you
begin to put together your questions for an email reading.

For some helpful suggestions on what type of questions will be most beneficial
<<click here>>

All services are prepaid. Please click on the tab provided that matches your request.

In order to generate as much accuracy as possible from the energies of your situation, a 5 question email reading is the minimum available.
Email Psychic Reading
Five Questions: $45



10 Questions: $90


Once your payment is complete, forward your email to: 
Christine@christineLynn.me

The average return time on email readings is 7 days.
Credit/Debit Card Payments are credited immediately
Please Note:
Paypal automatically sends a payment received notice to both of our email addresses. If you don't receive this immediately after making a payment, please check your Paypal account "Notices" settings.
You'll be notified via email with schedule choices within 24 hours of your payment -on rare occasions 48 hours (if the schedule deems this necessary).

Every effort to get your appointment scheduled as quickly as possible will be made.
To all my valued clients
- on occasion I get swamped with requests for email readings. At these times I will do my best to get to them all in a timely manner. I am only one person and do all readings personally and with the same attention I give to live readings.
On some occasions it may take 7 - 10 days
for an email reading to be returned to you. Please bear with me at these times.

My dear Christine,

"I'm speechless...you brought me smile and peace and you are so accurate in many aspects! The fact that you even saw that the exam has actually two sessions just blew me away :). Your reading gave me such peaceful feelings and trust to embrace what's to come into my path as for my own benefit and happiness. I wish you all the best to come!"

Kind regards, Mihaela
"Thank you for the email reading the other day. I was so impressed with the detailed reading, and it made me feel hopeful about my future. You have an amazing gift!"

"I was wondering if I could introduce you to Japanese people. Many of the Japanese don't understand English, so I would like to submit a request on their behalf, if it's possible. I mean, I directly take their questions written in Japanese and translate them into English, and your readings into Japanese… I think it will be a good opportunity for many Japanese people to know you. I look forward to hearing from you soon."

Miki
"Oh my goodness. You are so right on. Your words are beautiful and encouraging. Thank you so much. You have made me gel so much better."

Love Naomi
"Thank you so much for your reading. As I said, I have received other readings on this matter that is troubling me. Yours was, by far, the most extensive and detailed. Furthermore, regarding things that I already know but did not happen to share with you in my e-mail, concerning my relationship with Maria, you were spot on."

"What's most important, your reading was truly a ray of light. Not the usual, vague, "hang on, it's all going to work out fine" or learn from your mistakes and carry on . Thank you very much for giving me hope I can believe in!"

My best wishes to you and your loved ones

Spiros Athens, Greece
"Thank you so much for your wonderful insight! You were spot-on with many things. Your reading makes me very hopeful and excited for the future. Thank you again!"

Jess
Christine --!!

"That was incredible! Thank you again!"

Octavia
"Hi Christine, Thanks a lot for a very supportive and positive reading, your insight is amazing and I'll be sure to come back for more/ refer any friends who need psychic advice."

I'm truly glad I've met you!"

Love, Ana
"Hi Christine, Your readings are so accurate--thank you for your service."

Thank you! Keri
"Thank you for the email reading. You truly are the best and I appreciate everything. You're so dead on it's scary lol."

BT
"Thank you so very much,Christine :) I am truly grateful for all the work you're doing to help me. I will be focusing mostly on gratitude for the past, present and future and concentrating on the positive aspects, because the law of attraction appears to be working! Again, I am so happy and grateful and will keep in touch :)"

Love and light to you,Christine! Mario - U K
<<TOP>>